WhastaApp is the most used Instant messaging app nowadays for iPhone and Android. And if you found some of WhatsApp tricks and hacks and some cheats to make your WhatsApp experience more convenient.
There is a lot of status for WhatsApp in the status option you can set easily .i recently post so Manny whatsApp trick in my blog so Today going to show you all new and some old trick in one post. There is a lot of whatsApp trick on the web so I am going to write all the methods in this So Here we go Some of  WhatsApp Tricks You Never Know WhatsApp tricks.
Some of  WhatsApp Tricks You Never Know
#1. Prank your Friends by Changing their Profile Picture
I have found this awesome trick on the web that you can change your friends profile pic's to make there amazed you can make a dirty or not a good looking pic of your friend and show then. And tell then what type of pic you have set in your DP. Actually by doing some files replacement you can change the actual profile pic of you friend pretty quickly to any image. 😉
Well, just search for some nice scary or funny image that you think could easily paralyse your friends on how they look. (just search these images on Google Image search).
Now after you have found an excellent image just make sure to resize the image to 561 X 561 Pixel dimension as its must.
Now you need to navigate to the following path SD Card > Whatsapp > Profile Pictures.
Now you will see your friends profile pictures with name's similar to their phone numbers with a prefix attached to it.
Now just rename your new image to that same file name and then replace the old image with the one.
Well for iOS device use iFunBox to do this same trick and on Android you can use a nice file manager to achieve this effect.
Now just restart your device and your new profile pic will be rocking, now simply show and ask your friend what kind of profile picture they have uploaded it looks ugly, they will be amazed:p
---
#2. Hide Last Seen Time from your WhatsApp Profile
Don't like to display that last seen time to the another person, just want to stay hidden, well earlier it was not possible and we use to use some 3rd party apps, well now it can do officially.
Open WhatsApp application on your device.
Navigate to 

Settings > Chat Settings > Advanced > Last Seen Timestamp.

It will be one just disable it and that's it now no one can see your last seen timestamp. So it's officially disabled.
Or Check This post-WhatsApp tricks
---
#3. Getting back Deleted Messages on Whatsapp!
Deleted few conversations mistakenly, wanted to get all those conversations back as it means you a lot,
well, you might not be aware of the automated Whatsapp backup that it creates everyday @ 4 PM which is stored on the SD Card of your Android Device, well we are going to see how you can easily restore that database.
Navigate to the Whatsapp Database folder, 

SD Card > Whatsapp > Databases.

In the database folder, you will see some files something like 

msgstore-2014-01-04.1.db.crypt

. So as you can see these files even contain the date on which it's created + you will also see a file 

msgstore.db.crypt

, well this is the main file.
So now just rename this file 

msgstore.db.crypt

 tosomething like 

backup-msgstore.db.crypt.

Now after you have successfully renamed your file, just change the another file that contains the appropriate date like choosing the one that's latest or the one you think that might hold your chat conversation.
So now rename that file to 

msgstore.db.crypt

 and then the last step is to navigate to Setting > Applications > Manage applications > Whatsapp, and click on Clear Data option to remove all the data.
That's it now your 

msgstore.db.crypt

 will be restored and obviously that the file that contains your chat conversation.
So now as soon as you open your WhatsApp again it will ask you to restore from the Backup.
Just press Restore option and everything will be repaired pretty quickly.
So, guys, this was the easiest but little but lengthy way to restore your deleted conversation on WhatsApp. So now do no worry in case you have to delete that conversation you know where and how to restore then later 🙂
How to View WhatsApp Messages Backup File Online!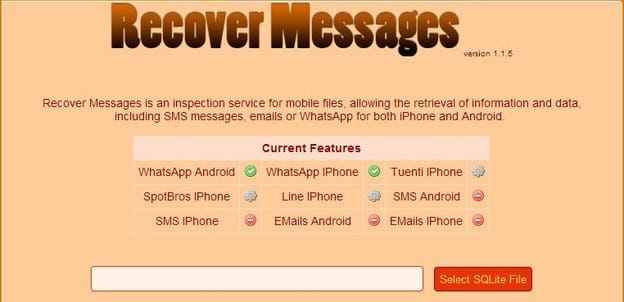 Well thinking if there is any easy way to, not restoring your file onto the WhatsApp messenger but still wanna have a look at what conversation you had,
well there is awesome online service called "RecoverMesages.com" that allows you to upload your .crypt file that you got from your SD Card online and viewed your messages quickly,
well just visit the above-mentioned website, upload your date and hit SCAN. 
---
#4. Hide One Image into Another for Nice Prank :p
Well you might have faced this thing but you might ignore as you thought it could not be possible, but yes you can easily fake any image by just only using original image as your masked image and using another image as your false image WhatsApp tricks.
Well, we will be using the Magic app for Android that will allow you to hold two images one your True Image and the other one will be your Fake image that will show when someone clicks on your original image.
Download & Install Magic app for Android.
Now after installing this excellent app just fire it up and then you will see interface something lie in the image on the right.
Now just click on the True Image option and choose your original image and then click on the Fake Image option and choose your prank image.
Now after selecting your images just press Do Magic! Option and voila! It's done now just share your image with everyone.
---
#5. Hacking your Friends WhatsApp Conversation 🙂
Well, now the same trick mentioned in the first step can be used to hack your friends WhatsApp conversation. You can quickly snatch the .crypt files from your friends SD Card and then view them online using the RecoverMessages website.
Just try to explore the friends SD Card and navigate to 

SD Card > Whatsapp > Database

 folder.
Here you will need two files 

-msgstore-yyyy..dd..db.crypt

 which will exactly contain the date and year when the backup was created.
Just copy this files to your computer and then upload this file to "RecoverMesages.com" to view them online.
That's it now you have easily hacked your friends Whatsapp Database; now you can see all the conversation and even ask him about his or her crush;p, so guys this how hacking Whatsapp conversation works, so enjoy WhatsApp tricks
---
#6. Password Lock your WhatsApp Application
Are you solemn about the security and privacy for your Whatsapp conversation, well now just add a nice password on your Whatsapp application, so that no one else except you can open your Whatsapp account?
Download & Install WhatsApp Lock for Android.
It's a simple application that allows you to add a four digit lock passcode to your Whatsapp application.
Now after installing the app it will ask you to store a four-digit passcode, just do that.
It even contains an Auto-Locking feature that will lock your Whatsapp automatically after some time.
The best thing about this application is that if someone enters the wrong passcode few times then if your phone contains the front camera then it will capture the image of the intruder and store it safely.
---
#7.  How To Use Two WhatsApp on the Same Phone
Step 1. Download & Install 2Lines For Whatsapp from Google play store.
Step 2. Open the app to add the new account. You can also use this app to switch the accounts.
Step 3. There is nothing like level three all done you have now two WhatsApp account in one phone. Switch which your want to use the app.
#8.  How to install Whatsapp without Jailbreak
#10. How To Use WhatsApp on Phone And Pc at Same Time
Download and install WhatsRemote on your rooted Android phone.
Now registered your email id on the application. You will get three days trial pack to try this service.
Now after step 1 & 2, open whatsremote.com and continue login withGoogle account [Make sure email account which you enter in app and website should be same.]
Now site's application ask for confirmation just allow it. After that, you will get the list of your WhatsApp friends in your browser. You can use this on multiple computers.
#11. Send and Receive WhatsApp Messages on Windows PC
Web.whatsapp.com
#12 Write Message in Hindi, Punjabi, Marathi, or any regional language.
I have already written a post about how you can write in your local or mother tongue in WhatsApp or any Android app follow the link given below.
Write message in your mother tongue
So Here is Some of WhatsApp Tricks You Never Know not some a huge list of 11 whatsApp trick's so enjoy all the tricks 😉
Like the post comment down if had any problem. 🙂