USB OTG is the synonym of USB On-The-Go one of the coolest features of Android devices. Most of the Android phones nowadays comes with USB OTG Cable that means you can enhance your phone's functions with external hardware.
If you're a tech geek, this will be like best feature to have on your mobile phone, and you can make your cell phone work like PC or computer you can even attach USB mouse, keyboard and many more things to your device.
I'll be showing you Top 15 Uses of USB OTG Cable You Never Know, and it will blow your mind up. I suggest you guys try everything if you want to have some fun and want to know what your phone support and what not I bet everything will be working like a charm, but if you got any problem, I'd be here like always.
Top 15 Uses of USB OTG Cable You Never Know
#1 Pen Drive or Hard Drive or Flash Drive
Pen drive is one of the best and most used features of USB OTG Cable. Yes, you can connect your pen drives with your Android device and access all the data, and you can even copy, paste, modify, delete, straight from your phone. If your stock file manager does not work, go with ES File Explorer File Manager, these days pen drives come with OTG port so you don't need any OTG cable now connect straight to the micro USB port and ready to go. A hard drive may not support all device.
Also Read: How to Send GIF on Whatsapp: Tricks
#2 USB or Bluetooth Keyboard 
You can even connect a keyboard to your Android phone, all you need to do is connect an OTG cable and plug in USB or Bluetooth keyboard and write down all your long notes and data very quickly with an external keyboard. It is as easy as using the keyboard with PC or laptop makes your work faster while using an android phone.
#3 USB or Bluetooth Mouse
You can use external mice with your android phone all you need to do is connect an OTG cable and connect any USB or Bluetooth mouse, And you're ready to go, you can see a cursor on your android screen and use mouse to do whatever you can do with your touch so this will be life saver for someone who got broken touch. 😛
#4 USB Fan
You may be thinking how is possible but YES! You can connect USB fan with OTG cable, and it will work as fine as it works with laptop or PC USB port. There are so many USB fans but if you want to get the best, and cheap go with MI USB fan that is best in this class.
#5 Card Reader 
If your Android phone doesn't support micro sd card, don't worry this trick is for you can use Card reader and connect with your phone OTG cable, and you're ready to rock. You can transfer, Modify or delete anything. You can even use DSLR cameras memory card and check all your stuff with the card reader.
Also Read: Some of WhatsApp Tricks You Never Know 2016
#6 Game Controller 
If you're a game boy and like to play so many android games so this is the best thing you can ever get in Android gaming a gaming controller. You can get USB or Bluetooth gaming controller and connect with USB OTG cable, and you're ready to play some heavy games like Asphalt and more that support external gaming pad.
#7 USB Lamp Light or USB Fan
If you're a PC geek, you may have used USB lamp or USB light that makes life easier for people who don't have backlight keyboards. You can even use USB light with your Android device I suggest you get the MI light and MI Fan cheap best and easy to use and with excellent light and Superb Air.
#8 USB LAN Cable
For some reasons if you want to connect your Android phone with LAN cable, it will be possible with the micro USB to LAN converter, and then you can use your LAN internet connection straight to your phone. There are two options from which you can choose micro to LAN or USB to LAN I suggest you to go with USB to LAN you can even use that device with PC too.
#9 DSLR Camera
You can go way far with USB OTG, and you can even connect your DSLR camera for shutter control or other cool features. You have to download DSLR Controller app from play store. Now get the connect you camera USB cable and second connect USB OTG cable and now connect both your ready to go now you can control any DSLR camera from android app.
#10 Usb Sound Card
If your mobile's sound jack is not working, or there is some problem with hardware we have an alternative method to play music in headphones. All need is a USB to sound jack that can solve your problem, Get a USB OTG cable and connect with USB sound card and connect your headphones to that card and you can listen to unmatched music.
#11 Print Document
This is one of the most interesting use of OTG You can also print your papers and files that are on your phones all you need is connect your phone with OTG cable and connect another end to the printer and your ready to open any document or file and give a print command, and that's all.
# 12 Charge Other Phone
If you heard about this first time, don't worry this is not fake and Yes you can charge another phone with the help of OTG cable with your phone. All you need to do is get an OTG cable and connect to the phone which is charged and connect to it and get another phone with the help of micro to USB cable and see the magic phone is started charging.
Also Read: How to Find a Lost Phone
#13 Chromecast or HDMI 
No matter you got smart TV or not but you can still mirror your Android screen to your home TV. All you need to have is an HDMI cable or ChromeCast and OTG cable to connect it to your phone and now connect it to your TV or LED in the USB port you're all set you can share stuff see movies and more through this trick.
#14 Import Photos From Digital Camera
Their so many cameras and DSLR who don't have Bluetooth or wifi file transfer so whenever you need to transfer the data you have to connect it to your PC or laptop but in case if you got Android smartphone with OTG Adapter you can transfer files to your phone. All you need to do is connect an OTG cable and connect it to the camera through DSLR USB cable your all set.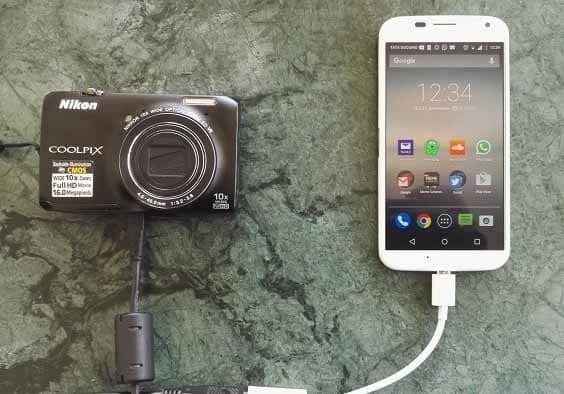 #15 Record Audio With External Microphone
If you are a youtube or anyone who use an external mic to record voice, this is the best trick for you. You can record your voice with the external mic on to the Android phone with the help of OTG cable.
More with OTG Cable  
You can also create music with MIDI controller app and External music instruments.
You can create Micro USB to USB type-c, Or you can say if USB OTG is feature is available on your Android phone this can be power hub you can do way more tweaks with it, and in future, there will be more tricks and gadgets to use with OTG,
That are the Top 15 Uses of USB OTG Cable You Never Know. So what are you waiting for get an OTG cable and try out all the tricks mention there and if you found something more interesting that can be on this list don't forget to mention the comments below?